---
On Saturday 10th of October we had the Festival of Learning with Technology at the WOW Zone in Wythenshawe, Manchester. There were over 100 participants of all ages, with many different interests. This event aimed to give an opportunity to parents and children to have fun with technology together.
We always talk about how stereotyping in science impacts on children's future decision when selecting subjects to study, both at secondary school level and degree level. What we forget is that parents have a strong impact on children's decisions when it comes to selecting which subjects to study. If they do not understand the subjects, what children learn by studying them and how this would impact on their learning in general, how would they even encourage their children to try it out.
We would like:
• More children to select to study science related subjects
• More girls to be involved in technology related subjects, activities and jobs • More children from disadvantaged backgrounds to get an opportunity to take part in technology and science related activities.
Therefore we need to reach the parents. Without their help we cannot support children. For example we can teach children how to code at school, but if they are discouraged when they go home, because of their parents lack of understanding how coding helps children to develop valuable problem solving and critical thinking skills, they might stop children from coding at home.
On the day it was amazing to see young kids talking about their experiences of coding activities. It was also fascinating to watch grandparents coding with their grand children. There was a moment when a father screamed with joy when he managed to complete game before his son. There was another moment when a lovely girl managed to turn her picture in to life using Arduino.(https://twitter.com/ yallsop/status/652793034267082752).
Another moment, when a couple of young kids decided to do the Minecraft workshop again and again! There was no way of separating them from Minecraft!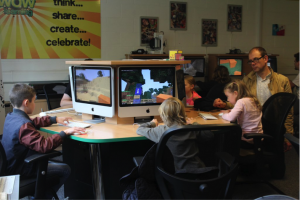 These moments are very precious for us because these are the moments that will help more children become involved in coding and digital making! These are the moments that will help parents to develop an understanding of why we focus on computer science in schools and what they could do to help their children.
We will continue to run events just for families to learn and share together!