Much has been discussed about computer games and their impact on young people. A lot of the media has focused how games are turning our young people into violent hooligans. But more recently, there has been shift in opinions. While there isn't a universal cry of "games are good", there is a general acceptance that games might have a place in education.
Michael Gove seems to have taken notice, "Games and interactive software can help pupils acquire complicated skills and rigorous knowledge in an engaging and enjoyable way … Britain has an incredibly strong games industry, with vast potential to engage with education both in this country and all over the world. We're already seeing these technologies being used in imaginative ways."
Beyond the buzz, what are the merits to the gamification of education? GBL can achieve some learning outcomes not easily achievable with traditional teaching approaches. Simulations, in particular, can support Learn by Doing and Learn by Being.Learn by Doing is focused on skills, actions, activity, engagement, team working and so on. Learn by Being is focused on knowledge such as understanding the environment, values, attitudes, society, diversity, culture and so on.
Design and Development Approach
If Games Based Learning (GBL) is to succeed, it needs to be more than a bit of fun that motivates students. It should be underpinned with learning theory. Measuring outcomes such as fun, engagement, and motivation generates buy-in, but it provides no guiding principles for designers and educators (teachers/ lecturers). Situated Learning provides such a theoretical underpinning (see box).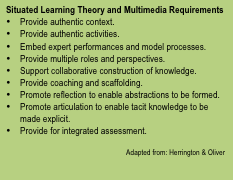 So how do can we ensure that GBL products are fit for purpose? It is essential that a robust design and development approach is used:
Analysis & Initial Design: Scoping with expert / teachers.
Detailed Design: design look & feel; user interface; algorithm; and incidents.
Build: Develop Media and interface; Incorporate algorithm.
Testing & Tuning.
Piloting: User group plays the

sim

. The simulation is tweaked on the basis of feedback.
Case Study: Sustainaville

Sustainaville is a simulation of a virtual community. It tackles issues around sustainable development and can be used in Geography, PSHEE, Enterprise, Business Studies, Environmental Studies and enrichment. The game requires the class to work together in teams to deal with social concerns such as crime, environmental matters such as climate change and economic problems such as unemployment. The teams play the roles of utilities, enterprise, housing & regeneration, local council, health sector, community & voluntary, education & skills and transport. Just like in the real world the pupils have to work with limited budgets. They also have to deal with incidents such as floods and cuts to rural transport. Can students transform the virtual community – they have three years in charge!
Sustainaville was piloted in a primary school in Stockport and also to year 8 tutor group in an all girls school in Tower Hamlets. The game ran over three rounds which created natural breakpoints in the game play to enable reflection to take place. The approach supports multiple learning conversation and learners talked in their teams, between teams and at a class level. The game anchored these conversations through questions such as:  What should we prioritise? Will you buy that, if we buy this? What could we have done better?
Learning outcomes in the two schools were significant:
77.5% improvement in subject knowledge.
57% improvement in decision-making skills.
67% improvement in understanding of cause and effect.
51% improvement in group working.
Mrs Hulme, Class Teacher / Deputy Head at Mellor Primary, stated:
The children were fully engaged

for

all the

session

and the 'buzz' in the room was one of real active learning.
The money aspect involved really captured the children's interest and they were genuinely interested to see the impact their purchases had made

on

the town. They were disappointed to see the results/consequences of their purchases in Year 2 and were keen to rectify them in Year 3!
The workshop pulled together many elements – working together, impact of managing and dealing with other people who have differing opinions, dealing with

consequences

of actions, environmental issues, dealing with money, managing a budget plus

many

more.
Mrs Foulkes who is a Teaching Assistant at Mellor Primary School stated, "I thoroughly enjoyed the session, as did the children. This group of children love anything involving money so it really captured their attention whilst dealing with lots of important and complex issues."
"The students were engaged in the activity and enjoyed seeing the results of their decisions", said Mrs Chapman (Assistant Head at Central Foundation Girls School).
A demonstration of Sustainaville can be found at http://www.games-ed.co.uk/sustainaville-demo.html
Conclusion
Games based learning offers powerful benefits, but if teachers are to take a leap of faith, then games need to work in classroom environments and support standard teaching practices. Developers cannot expect decades of good teaching practice to be thrown away. To this end, games based learning needs to support the evolution of teaching and not require a revolution.