It is a typical after-school day when Silver__Heart (with two underlines between Silver and Heart) checks her account for comments, the Theme of the Day or status updates. She is an artist and a creator. An experienced ©Bitstrips Inc. (www.bitstrips.com) member since 2009, she was first introduced to Bitstrips for Schools in computer class. Building on her school experience outside of her classroom, she is engaging in literacy in this 21st century through an online community.
The meaning of the term literacy long ago expanded from the pre-1970s focus on the fundamental skills of reading, though many experts and reading specialists continue to focus on reading and writing skills, particularly those related to print texts (Lankshear & Knovel, 2006). Scholars have attempted to clarify the definition of literacy as social (involving social practices) and situated (Barton & Hamilton, Gee). New literacy theorists are attempting to define and examine concepts around new literacies. Central to this examination is the observation that "literacy practices pervade daily life" (Coiro, Knobel, Lankshear & Leu, 2008, p. 9). This digital age view looks beyond the reading and writing foundation skills to include "the skills, knowledge, and attitudes that enable complex ways of getting and making meaning from multiple textual and symbolic sources" (Warschauer & Ware, 2008, p. 215). Literacy pervades Silver__Heart's Bitstrips experiences.
In school, Silver__Heart's Bitstrips' use was guided by the teacher who directed the content and pre-approved published materials. These early experiences were designed to meet the curriculum and learning expectations of the appropriate grade. Motivated by creating and publishing in an authentic community of students, Silver__Heart created her own personal account with permission from her parents, and began participating in an online community of creators.
Bitstrips was launched at South by Southwest in 2008 by Jacob Blackstock, an animator tired of repeatedly drawing the same things, and a group of his computer-talented friends (TIFF, 2012). Blackstock claims that within two years, over 600,000 registered users had made 3 million comics and the site had registered 100 million page views with 400,000 unique visitors a month (TIFF, 2012; crossmediaevents, 2012).  He describes his early school experience as a motivator for creating such a tool. Blackstock observes that the comics he drew by hand making fun of his teachers would often get him into trouble, but the projects that he completed using hand-drawn comics usually received high grades (TIFF, 2012). His program features the ability to design characters (self, friends and others) and easily build comics using a drag-and-drop interface combined with a whole host of templates, props and artifacts. The character design process allows for extensive positioning and expression options. Text bubbles are available for dialogue. Commenting on published comics is frequent, with corresponding facial expressions of the avatar to support the tone of the post.
Such a tool opens the world of comic creation to those who are unable to draw and animate by hand. A published comic can be shared with anyone online. Once BitstripsforSchools.com became available for teachers to use in practice, comics were created and published in all subjects (TIFF, 2012). It was licensed by the Ontario Ministry of Education for all schools in Ontario (TIFF, 2012). According to Blackstock, some 87% of Ontario schools had taken up this tool (crossmediaevents, 2012). Blackstock points out that this product allows students to express themselves through a fun and familiar medium as an active participant while exploring their own identity in a plethora of situations (TIFF, 2012).
To date, Silver__Heart has published over 650 comics and almost 80 series. Her unpublished repertoire contains more than 1000 other creations. Her account lists almost 60,000 views, with around 1500 kudos and laughs and more than 1000 users have favourited a comic of hers. She encounters similar creators from countries all over the world including the U.K., Australia and the U.S. Primarily, her connections are from Ontario where the program originated. Her impression is that most of these friends range from middle school to high school age, though she has also met a retired grandmother and entire families (parents and children) online. Together, many are lobbying for a BitCon – a conference similar to a Comic Con or VidCon.  Bitstrips has also recently launched a Facebook application, which has opened the world of avatar creation to millions of users (Kurwa, 2013). Those in the 18-24 year range are adopting it quickly, attracted by its flexibility (LeFavor, 2013).
Silver__Heart creates in many genres. Her artwork is extensive. Most recently featured as one of Buddy's (Jacob Blackstock's character) favourites, The Most Beautiful Creature.. (Figure 1) has appeared as a suggested comic to view (http://bitstrips.com/r/cLK69). Self-taught, she spent about two hours creating this. When Silver__Heart needs help, she turns to www.wikihow.com/draw. She cannot draw free-hand with a mouse in this program. Rather, she must create using a finite set of props and must shade using shapes which she sizes and turns. Silver__Heart has mastered the colour codes and keeps track of her favourites.
In the Experimental Genre, Silver__Heart has been featured as a top author. Last month she began a Chez Silver Makeup © series where she chooses a random friend that is online, and creates a custom background for their avatar, dressing them in an interesting outfit and applying complementary make-up. Silver__Heart has created more than 30 of these and they are well received. She spends anywhere from 30 minutes to hours designing these. Her backgrounds have been copied and used in other comics. For Syd has received over 700 views http://bitstrips.com/r/S66T9 (Figure 2).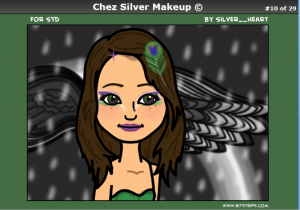 Of her series, MistClan is her favourite (http://bitstrips.com/series/rdvjp). Many series' authors create remixes of the popular Warrior series written by Erin Hunter. Silver__Heart has a number of series in the works and will only publish them after creating at least 6 comics. Many are well followed.  Daisy, a remix of popular story or perhaps an urban legend, is her most recent (http://bitstrips.com/series/29h1c).
What Silver__Heart likes best is producing (and the creative process involved) and the camaraderie of the community. There is chat bar for posting updates. In September, for example, there were many excited and supportive comments about the first days of school. This comic community supports good causes and each other as they dress in pink for Cerebral Palsy or green for Lyme disease.
Not all middle schools carry on the tradition of the school she attended. In fact, in Silver__Heart's school board, access to programs like Bitstrips is entirely up to the teacher.
Last year, she created a how-to video about Literacy and Bitstrips related to the Ontario grade 7 Language Arts curriculum http://youtu.be/N2BD9P-OwZ8. For more information on how teachers are using Bitstrips in their classrooms, see http://blog.bitstripsforschools.com/.
Silver__Heart is thankful that she was introduced to this Bitstrips in school. For her, it has become more than just a learning tool. While she continues to learn through her online experiences, she has also developed a community of similar-minded inventors, designers and producers. Through this supportive community, her identity is evolving and her artistic skills are expanding. Silver__Heart epitomizes a 21st century learner engaged in literacy in everyday life both outside of school and, as tools such as these become available to students, in school.
References
2x Sky (2013, March 29). Elearning: Teaching with Bitstrips: Grade 7 Language Arts – a How To. Retrieved from http://youtu.be/N2BD9P-OwZ8
Barton, D., & Hamilton, M. (2000). Literacy practices. In D. Barton, M. Hamilton & R. Ivaniĉ (Eds.), Situated literacies: reading and writing in context, (pp. 7-15). New York, NY: Routledge.
© Bitstrips Inc. (n/d). Bitstrips. Retrieved from www.bitstrips.com
Bitstrips Blog. (2013) Bitstrips for Schools: Comics in the Classroom. Retrieved from http://blog.bitstripsforschools.com/
Coiro, J., Knobel, M., Lankshear, C., & Leu, D. J. (2008a). Central issues in new literacies and new literacies research. In J. Coiro, M. Knobel, C. Lankshear & D. J. Leu (Eds.), Handbook of research on new literacies, (pp. 1-22). New York, NY: Erlbaum.
crossmediaevents (2012, Nov 5). CMTO10 – Demo #2 – BitStrips – Jacob Blackstock. Retrieved from http://youtu.be/RRYjZKiFO_g
Davies, J., & Merchant, G. (2009). Web 2.0 for schools: Learning and social participation. New York, NY: Peter Lang.
Gee, J. P. (2004). Situated language and learning: a critique of traditional schooling. New York, NY: Routledge.
Kurwa, N. (2013, May 11). Make your own comics: Storytelling with friends, in all tech considered: Tech, culture and connection. npr. Retrieved from http://www.npr.org/blogs/alltechconsidered/2013/05/11/182925867/make-your-own-comics-storytelling-with-friends
Lankshear, C., & Knobel, M. (2006). New literacies: everyday practices & classroom learning (2nd ed.). New York, NY: Open University.
LeFavor, L. (2013, April 29). Bitstrips comics explode onto Facebook: The new app has more than 7 million users. The Baltimore Sun.  Retrieved from http://articles.baltimoresun.com/2013-04-29/entertainment/bs-ae-bitstrips-20130426_1_app-comics-facebook
Silver__Heart. (n/d). Daisy. Retrieved from http://bitstrips.com/series/29h1c
Silver__Heart. (n/d). For Syd. Retrieved from http://bitstrips.com/r/S66T9
Silver__Heart. (n/d). Mist Clan. Retrieved from http://bitstrips.com/series/rdvjp
Silver__Heart. (n/d). The Most Beautiful Creature.. Retrieved from http://bitstrips.com/r/cLK69.
TIFF (2012, July 4). Jacob Blackstock: TIFF Nexus: New Media Literacies. Retrieved from http://youtu.be/8-QdAlXgDaQ
Warschauer, M., & Ware, P. (2008). Learning, change and power: Competing frames of technology and literacy. In J. Coiro, M. Knobel, C. Lankshear and D.J. Leu (Eds), Handbook of research on new literacies, (pp. 215-240). New York, NY: Erlbaum.
wikiHow (n/d). wikiHow: the how to manual that you can edit. Retrieved from www.wikihow.com/draw.