Modern-day video games immerse players in a virtual world where they assume a starring role in an adventure of some kind. Players choose an avatar and proceed to run, jump, shoot, capture, explore, and carry out different kinds of missions to win rewards. Such games create high engagement in the players and keep them playing for hours on end. What is it about video games that cause players to be so engaged? Whether it is the heroic cast of characters, compelling story lines, or the motivation to achieve big goals and gain rewards, video games certainly have a way of capturing your undivided attention. Players feel a sense of urgency and challenge that keeps them focused and motivated to continue playing.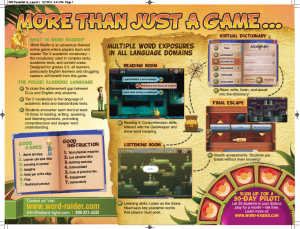 Very similarly to the gaming world, actively engaging students is an important goal in education. "Teachers want to reach and engage their students in innovative ways," said Mark Espinola, CEO of Ballard & Tighe, Publishers. This is why education developers have turned their attention to games in recent years. Combining the intriguing aspects of games with good instruction encourages students to get excited about learning. Providing rigorous content through a game-based format produces a state of focused motivation and promotes deep learning. Players are in charge of their progress and are encouraged to take risks to achieve their goals.
Specifically designed for the rigors of the Common Core State Standards, Word Raider: Escape is an online academic vocabulary game where students master academic vocabulary typically found on state standards, standardized exams, and academic word lists. The game was created with the best features of modern, immersive video games in mind. It focuses on general academic vocabulary because that has been identified as a major factor influencing the achievement gap between English language learners (ELLs) and English proficient students.
A recent report by the National Assessment of Educational Progress (NAEP) shows that "students who performed well on the vocabulary questions also performed well in reading comprehension" while students who do poorly in vocabulary also gain low scores  in reading comprehension (NAEP, 2012).
The report highlights what research has shown to be a direct relationship between vocabulary knowledge and the ability for students to comprehend a text.
Word Raider was developed using the best vocabulary teaching practices. Players explore and collect an "inventory" of words that they use to complete various games and puzzles. Every word is encountered more than 10 times in in reading, writing, speaking, and listening tasks. By the time players complete their last quest in the game, they will have taken at least 1,100 assessment items without ever realizing it.
Players document and track their words in a virtual dictionary. The dictionary includes:
An animated word tile that comes to life to illustrate the word meaning Part of speech and inflections
A student-friendly definition
A student-friendly sample sentence using the word in context
Word family (derivations of the word) and sample sentences
Through the dictionary, players can also earn more points when they power up their words by completing writing and speaking tasks.
Write the word
Write a sentence using the word
Record a sample sentence using the word
Record an answer to a prompt to demonstrate word understanding
The benefits of delivering Word Raider in a video game format include: increased student engagement, instant feedback, repeated exposure to increase retention of meaning, differentiated instruction, access at home or after school, and a teacher portal to monitor student progress and mastery.
To find more about Word Raider, visit www.word-raider.com
National Center for Education Statistics (2012). The Nations Report Card: Vocabulary Results From the 2009 and 2011 NAEP Reading Assessments, NCES 2013 452.