I am Program Manager of Global Partners Junior, a technology driven education program that connects urban middle schoolers around the world. In this role, I have the privilege of working with educators from Accra to Vancouver to bring technology integration, global awareness, and project based learning to their classrooms. An incredibly diverse group of 2,500 students in 30 cities participate. Our many educators are equally diverse, creating the opportunity for an ongoing exchange of best practices from classrooms around the world. On any given day, I may speak with educators in Mumbai, Rio de Janiero, Hong Kong, Sydney, Bogota, London and New York, all of whom share the same goals for their students but have different pedagogical perspectives. As a former New York City public school teacher, I am constantly amazed and invigorated by this exchange of ideas.
So how does Global Partners Junior work? Each week, students meet for 2-4 hours in classrooms around the world and communicate online about topics relevant to all cultures using a shared curriculum. They research facts about their communities and international cities, exchange messages on our password-protected website at gpjunior.tiged.org, and create multimedia projects and video greetings. Now in its ninth year, this program was developed by New York City Global Partners, the nonprofit organization that connects the Mayor's Office of the City of New York to cities around the world.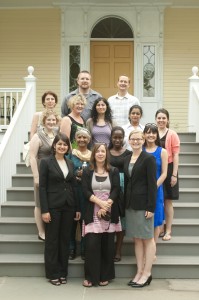 The curriculum topic that guides students' interactions changes every year to keep the conversation exciting. Past topics have included local and global business, environmental sustainability, and city parks. Each curriculum is focused on issues relevant to urban youth and is developed by our staff in partnership with content area experts. The topic itself, while important, is less a central focus than a lens through which students can examine their own cities and draw comparisons with others.
For example, this year students are collaborating on the Urban Stages curriculum, which focuses on international theater production. Students explore elements of theater such as playwriting and set, costume and sound design, and share their learning with their international peers through blog posts, discussion forums, and video chats. They will create hundreds of multimedia projects throughout the year. Highlights so far include a student-designed website and podcast about local theaters in Toronto; a promotional video about current productions from Warsaw; and digitally designed storyboards of international folktales from New York City. Students constantly explore new technology resources, employing both video editing and digital design software and free online tools such as Prezi, SketchUp and VoiceThread to create dynamic representations of their research. For the culminating project, students will transform an underutilized space in their community into a theater and create an original performance.
One of the strengths of all Global Partners Junior curricula is that they are adaptable to an immense variety of classroom contexts and focuses. The program was developed in cooperation with the NYC Department of Parks and Recreation, and was originally offered by Parks afterschool programs. Global Partners has since expanded the program within New York City to include public schools and afterschool programs operated by the NYC Housing Authority, the New York Public Library, and the Sports and Arts in Schools Foundation. Each of these groups, along with our 75 international classes, brings its own personality and priorities to the shared curriculum; some classes focus more on introducing students to new technology tools, while others emphasize literacy skills and knowledge of global cultures.
Global Partners supports each educator in adapting and implementing the curriculum by providing student workbooks, lesson plans, enrichment activities and assessment tools. Our staff conducts professional development sessions for participating educators, focusing on topics such as technology integration, global awareness activities, and evaluation and assessment. These sessions typically take place by conference call or Skype, and are a fantastic opportunity for educators to ask questions, troubleshoot project ideas, and share the great resources and lesson plans that have been successful in their classrooms. 
I have also had the pleasure of visiting Global Partners Junior educators in Mumbai, Delhi, London, and Toronto. Many international educators have also visited New York City to participate in professional developments and get to know the Big Apple.  These visits are a great opportunity to observe the varied ways educators implement the program in their classrooms and adapt it to their local curricula and standards.
Next year's program will focus on digital storytelling in cities around the world. Students will explore local and global fiction, nonfiction, and poetry, and create multimedia projects to bring their own stories to life. We plan to add even more great international schools to the program and welcome applications. Already we have schools participating in Accra, Berlin, Bogotá, Buenos Aires, Copenhagen, Cuernavaca, Delhi, Dublin, Ho Chi Minh City, Hong Kong, Jerusalem, Johannesburg, Karachi, Lima, London, Melbourne, Mexico City, Mumbai, Paris, Prague, Rio de Janeiro, São Paulo, Shanghai, Singapore, Sydney, Tokyo, Toronto, Vancouver, and Warsaw.
Enrollment for the 2013-14 Global Partners Junior program is open. For more information or to request an application, please contact: gpjunior@cityhall.nyc.gov.